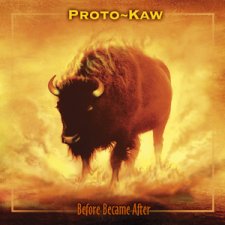 Review by siLLy puPPy — The band Kansas actually had three different line-ups in the 70s with only Kerry Livgren being the sole member to transverse all the
different incarnations of the band. The band formed as far back as 1969 and went through a few cast member changes before a
second version now referred to as Kansas II emerged in the aftermath. This is the period when Livgren and company produced a
plethora of progressive leaning rock that took a cue from all the greats of the era including but limited to King Crimson, Yes, Pink
Floyd, Zappa, Deep Purple and beyond. After the positive feedback from releasing their archival "Early Recordings From Kansas
1971-1973" in 2002, the newly named PROTO-KAW felt a magical rekindling of spirits and decided to have a go at taking a stab at the
unfulfilled desires which they abandoned thirty years prior. Due to legal restrictions on how the trademarked band name Kansas
could be used, the band cleverly found a way of telling the story all in the context of legal loopholes. PROTO (original) plus KAW
(name of the Native American tribe also referred to as Kanza or Kansa) produced a name that had an exact equivalency and finally
at long last despite most members not even being in contact with each other for three decades cleverly named their debut album of
completely new music BEFORE BECAME AFTER.